See on Scoop.it – Tere sur aur mere geet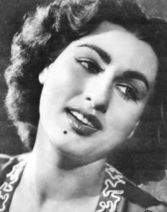 V. GANGADHAR
The siren of the 1950s Hindi cinema talks of her comeback to the silver screen — as a grandmother this time.
The sparkle remains: Begum Para in her heyday.
IT'S probably the longest ever break from acting? The news is that Begum Para, the sex siren of the 1950s, is returning to Bollywood. Though the sparkle in her eyes remains, the svelte, sexy figure is gone; so have the quicksilver movements. These do not matter as Begum Para is playing a grandmother in Sanjay Leela Bansali's next film, "Sawariya" starring newcomers, Ranbir Rishi Kapoor and Sonam Anil Kapoor. She has not faced the camera after her last film, "Kar Bala" with Bhagwan Dada in the early 1960s.
While still at the peak of her career, Begum Para married Nasir Khan, Dilip Kumar's brother, in 1958 and quit acting. Nasir saab died in 1974 and Begum Para had a tough time bringing up her three children. Today, son Ayub Khan is in films while the former star lives with her daughter and grandchildren in Versova, Mumbai.
No regrets
She has no regrets at the disruption of her career. Begum Para never thought of a comeback because she had heard reports of star tantrums and lack of respect to senior actors on the sets. "I had heard horror stories on this topic," she observed. "But Sanjay Bansali, whom I had known from his childhood, assured me nothing like that would happen on his sets and I agreed."
Still the news of her return took fans by surprise. Suddenly TV channels were focusing on her career and her image as a sex symbol. Sometime back, I met her for a long chat and found her charming and articulate. "I had a good figure and did not mind wearing trousers, skirts and shirts which emphasised it," she explained. "I always had some kind of a bindaas image." Film magazines focused on her "oomph and smouldering "come hither" look. As a schoolboy in 1953, I watched "Ustad Pedro" and envied the swashbuckling hero, Sheikh Mukhtar, who carryied her away at the end!
Heroine at 17
A native of Jalandhar but brought up in Bikaner, Para (she added the 'Begum' later) belonged to a liberal Muslim family. "No purdah for us," she recollected. "We were even allowed to watch films. I wrote fan letters to my favourite, Motilal, later a good friend." During a holiday in Bombay, Para's sister-in-law Protima Das Gupta — who was already in films — persuaded her to accept offers to act. Her family reluctantly agreed. At 17, she was the heroine of "Chand" where the romantic scenes with hero, Prem Adib, included looking into his eyes and holding hands briefly! "I had absolutely no acting experience," admitted Begum Para. "But it was fun, the director, co-stars were all very kind and co o perative."
Settling down in Bombay in 1945, Para acted in dozens of films including, "Sohini Mahiwal", "Mehendi", "Shama", "Pedro", "Dada" and "Dara" — the last three with action hero, Sheikh Mukthar. The glamour in the films of those days was reserved for the vamp and prevented Para from getting more A-grade films where the long-suffering heroine had to be a "Sati-Savitri".
Para always dressed according to the latest fashion and was a photographer's delight. She was a hit with male audiences and her arrival on the screen was always greeted with wolf whistles. "It was fun," she recollected. "You see, I did not take my career seriously and accepted whatever roles came my way."
On the sets of "Lootera" Begum Para met Nasir Khan. It was not love at first sight but they got married, which meant the end of her career. After Nasir's death, she spent sometime with her sister in Pakistan but India was home. Because of her independent nature, she did not get along with Dilip Kumar, though now the misunderstandings have been sorted out.
Wonderful friends
Bollywood brought her wonderful friends like Shyama, Nadira, Nargis, Motilal and dancer Sitara Devi. I spotted a wide variety of books in the flat — Enid Blyton, classics including The Iliad and The Odyssey, D.H. Lawrence, Robert Ludlum…
Begum Para now spends much of her time with her grandchildren, watching movies. The current excess of violence and sex in movies, the suggestive lyrics do not appeal to her. Most of the heroines look alike and wear too much make up, she says, but she admires Amitabh Bachchan, Naseeruddin Shah and Kajol. "How she glows on the screen," she exclaims. Though Begum Para is excited about "Sawariya", she has no long-term plans for her comeback. "I just want to have some fun," she smiled. That had always been her approach to acting.
See on www.hindu.com