See on Scoop.it – Tere sur aur mere geet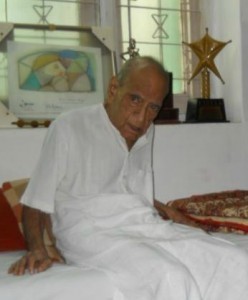 Hangal, who passed away on August 26, in his last interview, given two months ago…
The last interview of A.K. Hangal
By Niilesh A Raje and Rajesh Subramanian | Saturday, September 1st, 2012
"If you start with a hero's role, that's all you'll remain. You'll never become an actor"
Even after 37 years of "Sholay", it is very unlikely that one can forget the character actor A. K. Hangal who played the notable role of "Rahim Chacha" in the film with his famous one liner, "Itna sannata kyon hai, bhai". Hangal, who passed away on August 26, in his last interview, given two months ago to Niilesh A Raje and Rajesh Subramanian:
"In Sholay, I was given the character role of a blind man and to get this character right I used psycho-technique to get the feeling of blindness," revealed the veteran actor, when we met him at his modest apartment at Santacruz.
"I must admit that I got many fantastic roles. The length of the role never mattered to me; what mattered was the character", added the nonagenarian who once advised actor Sanjeev Kumar, "If you start with a hero's role, that's all you'll remain. You'll never become an actor".
"When we were filming Sholay we never thought the film would go on to become such a sensation. Feels good that people still remember my character now more than 35 years after the film's release". He also mentioned that he was simultaneously shooting for Dev Anand's Ishq Ishq Ishq at Nepal. "Devsaab had arranged a special helicopter for me. I used to finish my work for Sholay and fly back to Nepal".
In an illustrious career spanning more than 200 films, A.K. Hangal appeared in films like Abhimaan, Anubhav, Deewar, Sholay, Aandhi, Namak Haraam, Aap Ki Kasam, Shagirdh, Mere Apne, Parichay, Daag, Joshila, Heera Panna, Jawani Diwani, Garam Hawa, Bawarchi, Kora Kagaz, Chit Chor, Satyam Shivam Sundaram, Swarg Narak, Avtaar, Arjun, Lagaan and Paheli which made him a household name.
He was equally ecstatic when he talked about Inder Mohan, the character of a naughty old man he played in Shaukeen (1982). Along with celebrated actors Ashok Kumar and Utpal Dutt, he enthralled the audience in this flirtatious adventure. "Basu Chatterjee wanted to cast Madan Puri instead of me but the producer Debika Mitra was hell bent on casting me. It was a wonderful film and we all had a gala time", he fondly recollected.
He also recounted a funny incident after the release of Namak Haraam (1973) where he played a union leader; when a police man stopped him one day and requested him to help them form a police union. "The cop thought I was a real union leader", he chuckled.
A highly disciplined and humble man, Hangal who had utmost respect for his chosen craft never approached anyone for work and was very particular about time. "I have been honest to my profession and have never troubled any filmmaker. All my co-actors respected me a lot and I feel proud about it", said the actor.
A.K. Hangal was conferred the Padmabhushan in 2006 and had also penned his autobiography titled "Life and Times of A. K. Hangal". One must admit that his endearing performances always struck a chord with the audience. His motto and advice to all was 'in our lifetime let's make the best of it'.
Niilesh A Raje and Rajesh Subramanian interviewed A.K. Hangal for their magazine 'Nosstalgiaaa ~ A Peek Into The Golden Past'. This interview was arranged by his son Vijay Hangal, 76, who retired as photographer and cameraman from the Indian Film Industry. Some of his work as still photographer includes movies like Deewar, Kabhie Kabhie and Daag.
See on dearcinema.com